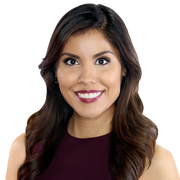 María Salazar joined FOX 26 News in February 2018 as a reporter. Raised in Georgia, Maria is delighted to be back in the South and feels at home in Texas. She comes from Reading, Pennsylvania where she worked for two years as bilingual reporter for WFMZ. While at WFMZ, she covered the impacts of increased immigration enforcement in Reading and shed light on the city's drug trade problem. Maria was also sent to Washington, D.C. to cover President Trump's inauguration and the women's march. Previously, María was a reporter at Telemundo Atlanta where she worked in partnership with the local ABC affiliate in Atlanta, WSB-TV, to uncover abuse and fraud at a local private school for troubled teens. The school closed due to loss of enrollment after the investigative reports aired in August 2015. The school's director was later arrested on multiple fraud and theft by deception charges. Moreover, at Telemundo Atlanta, Maria worked on a four-part Southeast Emmy-nominated political special during the 2014 elections. Maria interviewed the front runners for Georgia Governor and U.S. Senate. She also produced in-depth reports on the electoral process for first time voters. María is a three-time Southeast Emmy award-winning reporter including one for a report on sex trafficking in the Atlanta area. Born in Chicago to immigrants from Mexico, Maria is proud of her Mexican-American heritage. She holds a BS in Public Policy and a MS in Social Foundations of Education from Georgia State University. When Maria isn't reporting, you can catch her pretending to be a mariachi singer and trying a new recipe.
The latest from Maria Salazar
Residents at a Spring Branch apartment tell FOX 26 their apartment is overrun with so much mold it's making their families sick and management refuses to do anything about it.
A CDC document revealed new information about the delta variant, including its impact on vaccinated people
With the surge of COVID-19 cases due to the delta variant, Texas Children's Hospital says it's seeing an increase in hospitalization rates as well, especially in the past two weeks.
Local cases of COVID-19 continue to rise as the delta variant drives the fourth wave of the pandemic.
Simone Biles is bringing attention to the extreme stress that elite athletes face when competing.
Houston police say two men met two other men in the parking lot for a marijuana deal, during which a 19-year-old was stabbed and another 19-year-old was shot.
With COVID-19 cases surging and hospitalizations increasing at a dangerous rate, local leaders and healthcare professionals are urging residents to continue taking the virus seriously.
As Harris County raises its COVID-19 threat level, neighboring Fort Bend County leaders are urging its residents to take precautions.
Memorial Hermann Health System reported a 200% increase in COVID-19 hospitalizations in the last two weeks as the delta variant spreads and vaccination rates lag.